Neck Choker Dresses







---
The Mango Look - $60


Mango Dress: Panelled satin dress with halter neck and back bowknot fastening.
A fabulous halter neck satin dress for a more sophisticated look that also takes care of your budget. If you want to look classy without spending too much money on a dress you will probably wear when a specific occasion presents itself, then you found YOUR dress. This is a perfect match for nearly every type of body. It does not wrap around you like a tight dress at all; this one makes you breath and most importantly it makes you move. There is nothing worse than a beautiful dress that limits your movements - trust me, I've been through that - so here it goes.

Not only you will be revealing your beautiful legs with this dress, but if you have nice shoulders, neck or triangle, then this is what will make you stand out from every other girl in that room. The colour is perfect for every hairstyles and hair colour. I would pair this dress with a matching clutch (can be found of www.mango.com) and black stilettos. Perfection is right in front of you.
---
The Lipsy Look - $103


Lipsy Dress: White silky dress with grey stones on the neck collar.
The English brand is famous for its elegant and trendy dresses that always have their unique touch: shiny stones. These are what make their dresses stand out from all other. In addition, you don't even have to worry about the necklace or any other accessory as by wearing such a beautiful garment, attention will be directed at you. The silky white tone, innocent and divine, makes you want to wear this dress wherever you go: beach party, fancy cocktail evening, elegant summer night out.
---
The Diesel Look - $194


Diesel Dress: Flapping dirty pink dress with neck side buttons.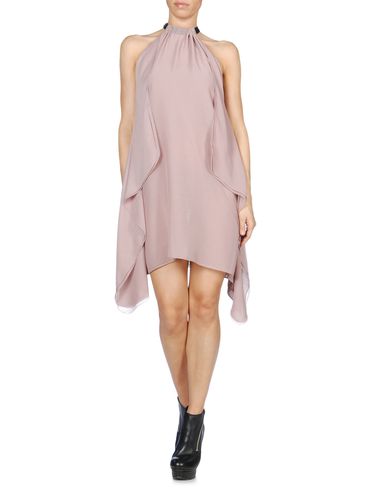 Diesel's style for dresses is unique. If you are a strong and determined woman that wants to appear powerful and sexy, this is your brand, but most importantly... THIS is YOUR dress. This dress highlights body movements due to the flapping fabric places on the sides. I think this is a very elegant look for every woman/girl who loves fashion and who likes to be different. The leather neck strap is the most important detail of the dress - in my opinion - as it is what holds the whole dress together. No necklace is needed for this dress as this garment works itself. A pair of black high heels would suit the dress perfectly and... the shinier, the better.