Many celebrities are showing off their summer looks with these dresses. Every star picks their own style and colour and make their way through the beach, a yacht, or other summer destination. The styles available for these dresses are infinite. You can have patterned prints, bright colours, various shapes and forms that highlight your best body parts. You can wear these dresses on the beach, as a cover-up, for an evening cocktail or just for your daily routines. These items adapt to your lifestyle as soon as you wear them.

Lets now explore how celebrities have enriched their looks and what styles they chose to show off...
Vanessa Hudgens

This flower print dress is one of my personal favourites. Not only Vanessa chose to wear a super trend - the long dress - but she also chose the flower print - another super trend this year - that takes her to my top three 'best-dressed celebs' for the summer. I really like the contrast that is created by the dark background colour of the dress and the light pink flowers. In addition, Vanessa chose a style that definitely shows off her body.

The dress is made up of two parts: the upper 'crop' top and the 'long skirt' bottom. The upper part resembles the style of those common but trendy crop tops in stores like Topshop, River Island and Forever 21. The only exception, is that this top links - on the sides - to the skirt. And we must not forget a front slit. So when Vanessa walks down the street while texting, she is subconsciously - or not - revealing her long lean legs.
Other celebrities that have been spotted wearing long summer dresses are...
Starting from the left:

1. Nicole Richie: flower print

2. Emma Roberts: aztech print

3. Kim Kardashian: striped

4. Vanessa Hudgens: leopeard print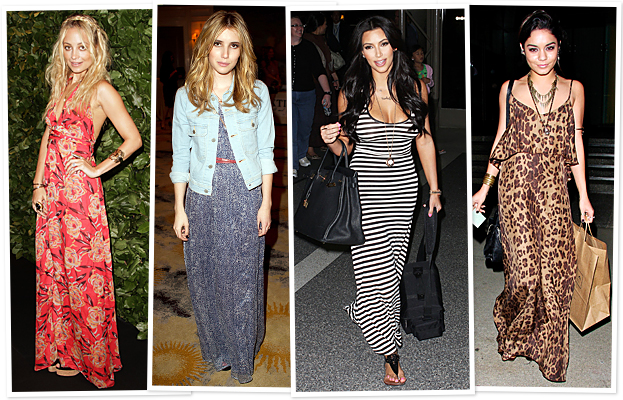 Want to dress like them?

Here is a little something to get you in the mood.