Spring 2014 will be all about pastel shades, so I thought of doing an entry today about this.
I think
pastel
colours
are so natural and so chic that they just reflect the spring-time spirit. Flowers bloom, and the weather gets warmer and the sun will be shining more often again. Not to mention later sunsets!
I thought I might share with you some of my favourite items from the Spring 2014 collections, which of course are already on my shopping list!
ZARA
- 25.99 GBP
This is such a soothing colour for a crop top. The past season was about bright colours like pinks, reds, oranges and yellows, and this season everything seems to have relaxed a little.
By being a cropped top, any high-waisted bottom will sit the style perfectly. I like how they styled it with
white
, although a colour contrast (obviously still remaining on the
pastel hues
) would also be a nice touch.
I would also wear this cropped top with a
pastel
yellow
or
pink
skirt/shorts and
white
wedges.
BANANA REPUBLIC - 59.50 GBP
A beautifully decorated camel skirt for an elegant cocktail evening or a casual chic day outfit. I am absolutely in love with the details on this skirt: the bronze flowers on the camel background are just perfect.
Just like in the picture, I would also pair it with a
cream
top and
golden
flats or low heels - to make the skirt stand out and not the rest. This is one of those clothing items that has to stand out on its own, so the look cannot be over elaborated.
The banded waist is another detail I like about this skirt. It creates the looks of a sophisticated and stylish young woman.
LIU.JO - 61.00 GBP
A large
pastel
pink
wallet that every girl needs. The outside and inside zipper are very chic and make this wallet a practical and fashionable accessory for this Spring.
The handy inside pockets also make life easier for us, as we always have many things to carry around in a wallet. Plus, when you don't need a big bag, you can use this as an elegant night-time purse as it can contain your basic needs: money & phone.
The shiny outside laminated leather make this accessory a must-have for this Spring 2014.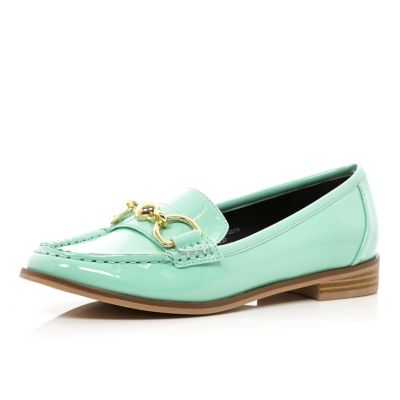 RIVER ISLAND
- 28.00 GBP
A
pastel
green
moccasin for this Spring is just perfect to complete this entry. The golden detail at the front contrasts greatly with the colours and makes this shoes very fashionable and a perfect fit for a pair of short and a simple blouse.
I love moccasins as they can be dressed up or down, according to the circumstances, and they make a great day-to-night in case you need a little inspiration for a Spring Break Weekend.